Basketball Courts MA can bring your backyard to life with a low-maintenance tennis court. Our modular court surfaces are durable, yet comfortable to play on. They provide great ball response and consistent bounce. Our Tennis systems offer slight vertical flex that helps prevent injuries by reducing stress on joints and lower backs. The patented six-point interlocking system allows a secure and hassle-free installation.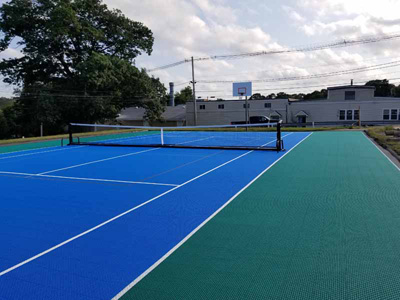 Our team can assist with all elements of the installation process from designing the space to assembling the court tile. We also offer a wide variety of ancillary products including lighting, fixed and portable nets, ball containment fencing and rebounders for your court.

Tennis courts were traditionally our most popular standalone option after basketball. However, if you were hoping to include more than tennis, we offer a variety of game line and accessory options so you may create a multi-sport game court.



If you're looking for a simple solution for a backyard tennis court, we offer DIY Court Kits. We can help you select from size and color options. DIY court kits come with easy to follow assembly instructions. All courts are fully assembled in the warehouse and all requested lines and logos are pre-painted by a team of professionals in a controlled environment to ensure accuracy and longevity.